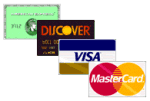 Internet Credit Card Processing
Our easy to setup software (IPPS) allows you to interface your web site by inserting a few lines of unique code generated by our "code wizard" after answering a few basic questions about your products. The Code Wizard provides you the option to quickly create HTML code for SINGLE ITEM SALES and MEMBERSHIP websites requiring password administration and special billing options. Merchants with more than one item to sell to the same customer should use the internal ShopCart ... or the POScart.com Web Builder Tool.
All of this can be done in a matter of minutes.
Once the customer "clicks" on the "buy this item" button, they are taken to a Secure Commerce Server, a page tailored to look like it came from your website.
This secure page collects sensitive card holder information and processes the transaction in a matter of seconds, returning the customer to your web site. It`s quick, simple and easy to install and operate our remote control payment processing system. The approval happens while the customer is still on-line, not the next day when "buyers remorse" might set in. This is what we call real-time credit card processing.
Isn`t it worth a few cents per transaction to have someone there for you 24 hours per day, seven days per week, while you`re asleep or on vacation? Could you possibly hire a 24 hour employee, pay for a full-time Internet connection and purchase software less expensive than the small cost of a transaction fee?
You don`t need anything except a Credit Card Merchant Account and Right Connection to do business on the Internet. We supply you use of all of the software, shopping carts, password management systems, virtual terminals, complex searching and reporting of all transactions, fraud filters, Address Verification Service (AVS) and the support to make it all happen.